Companies registration in UAE - the reasons to work with us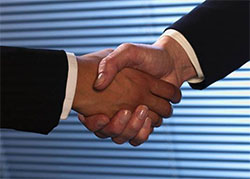 Remote collaboration - the whole range of our services of companies registration and licensing is provided in UAE with minimal possible time contribution and personal involvement from our customers' side.
Shortest time - our advisors provide answers to your queries as soon as possible. The exact and straight forward procedure we follow for obtaining approvals and registration of companies results that we can register company in UAE in 1 day only.
Work efficiency - due to the experience and professional qualifications of our advisors we execute the orders within the shortest possible time as we value the time of our customers.
We offer the registration of companies in the UAE at the competitive and transparent prices and provide all the respective details. The companies registration in UAE is provided at highly competivite prices.
Quality of services - all procedures of registration of companies in UAE are built efficiently and for each individual customer we assign the dedicated manager who is the main contact point for all the issues when working with a customer.
Experience - oriented and effective solutions - owing to our expertise we offer every client the solution which is the best for such client and is the most efficient in terms of business requirements and costs.
Warranty and service - companies registration in UAE is provided as according to all the respective applicable requirements of regulatory authorities and provide the proper companies administration services.
Our office is located in Dubai, which means that the registration and administration of your company in UAE is done by us locally.
Our focusing on the UAE companies registration and administration gives us the clear advantages in terms of the required time and efficiency of execution of the customers' orders.
We have all the necessary licenses and authorizations for professional consulting services in Dubai.
If required we can provide the complete solutions - not only the companies registration in UAE, but also complete companies administration services and support when working with banks, service of obtaining the necessary additional business permits and approvals, etc.
Companies registration in UAE – it is the new prospectives for international business, advantageous alternatives to move part of your business to other country and potentials of business development thanks to taxation advantages, costs of energy resources and availability of the complete infrastructure for any type of business.
We work with clients from all over the world, thus we have the experience and knowledge of the requirements of customers with very different requirements and particulars to consider.
Registration of companies of any types in UAE of any legal forms and with any licenses and permitted activities - this is what we do on the day to day basis for all types of customers with variety of goals and objectives.
Written by : Alexandre Kober in Google +
x