Costs to Open an Offshore Company in Dubai, UAE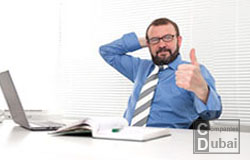 The UAE offshore company is low-cost and effective solution for international business which you can buy in our Dubai office. As the registered agent for the UAE offshore companies with the office in Dubai we provide the transparent and clear costs / pricing for the incorporation of such UAE offshore companies and our price / incorporation fees are one of the best prices on the market combined with the high quality of the services and short incorporation time.
UAE Offshore company Incorporation / Formation costs and First Year Fees
Registred Address in dubai
2.200,-*
* Fee includes all the governmental incorporation and yearly costs for the whole year
The price above is the package which is obligatory for the Offshore Company in UAE. Every UAE offshore company must have the registered agent and the registered address in UAE and pay the respective government charges.
The company documents package with the price above includes
Memorandum and articles

Minutes of the first meeting of the shareholders

Appointment of the first director

Shareholders meeting protocol – to open the company bank account

Certificate of incorporation

Shareholders registry

Directors registry
UAE Offshore Company incorporation time by our Dubai office - 3-4 working days. For express set-up – 48 hours.
UAE Offshore company Annual fees – Starting from the Second Year
UAE offshore company, Dubai is required to pay the yearly governmental charges, registered agent fees and registered office costs to remain in good standing. The requirement for the company renewal is obligatory to keep the entity in good state. Failure to fulfill this obligation results dissolution of the company and it would be striked from the registry.
Registred Address in dubai
1.750,-*
* Includes all the governmental incorporation and yearly fees for the Offshore Company in UAE for the whole year starting from the second year.
UAE Offshore company – Additional Services.
Priority company registration services - 48 hours registration
510,-
Issue of share certificate
100,-
Bank account opening for UAE offshore company **
850,-**
Documents Shipping, courier post
100,-
Additional set of company documents,good standing, etc.
upon request
Additional Administrative services
upon request
** Fee for account opening with offshore company.
In order to buy the UAE offshore company in UAE with the registered office in Dubai it is possible to order the company and receive the company documents per post.
If the bank account opening in UAE is required the personal visit to UAE is obligatory to sign the bank account opening forms.
To register the UAE company and open the bank account it is necessary to come to Dubai for one day only.