Dubai bank accounts – cheques regulations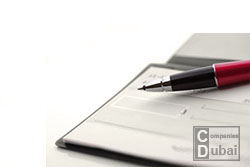 The bank cheques are the very common mean of payments in Dubai and other Emirates of UAE. The cheque books may be issued to corporate as well as private accounts in UAE. Important note – there is no possibility to issue cheque books for private accounts opened for the UAE non-residents.
Cheque books can be received by:
- Physical persons having residency visa in UAE.
- Onshore companies in Dubai and other Emirates of UAE under the condition that the company director has the UAE residency visa.
When issuing a bank cheque in Dubai, UAE it is extremely important to make sure the cheque would not be bounced when presented to the bank thus there shall be sufficient money on the account to cover the payment due under the cheque. Failure to do so can result serious consequences in UAE as the country has quite strict regulations in terms of bounced cheques.
To open corporate or private bank account with the Cheque Book in Dubai, UAE please CONTACT US or send ONLINE REQUEST
See also more details on: